Organigram Holdings Inc. (OGI) is the parent company of Organigram Inc., a Canadian producer of medical and adult-use cannabis products…
OGI was founded in 2013 and operates an indoor production facility on a 14-acre campus at its headquarters Moncton, New Brunswick. The company initially focused only on the medical marijuana market and expanded its product line when Canada legalized recreational cannabis commerce in 2018.
The total Canadian cannabis market is forecast to generate up to C$7 billion in sales this year. OGI's sales have been exclusively within Canada up until this year, when it announced its first international partnership to supply dried flower to Canndoc Ltd., an Israeli medical cannabis producer.
Here's how our proprietary POWR Ratings system evaluates OGI:
Trade Grade: D
OGI is currently trading at $1.47, closer to its 52-week low of $1.01 than its 52-week high of $3.64. This might be strange, because OGI has been very busy in 2020 with a flurry of positive activity including its partnership with Canndoc, the launch of several new products including the Edison RE:MIX dissolvable cannabis powder, and its $2.5 million investment in cannabinoid science firm Hyasynth Biologicals Inc. However, none of its recent product announcements or partnerships reanimated the stock, which has been mostly stagnant over the past few months except for a Nov. 9 blip when it announced the release of a pair of limited edition products for the holiday season.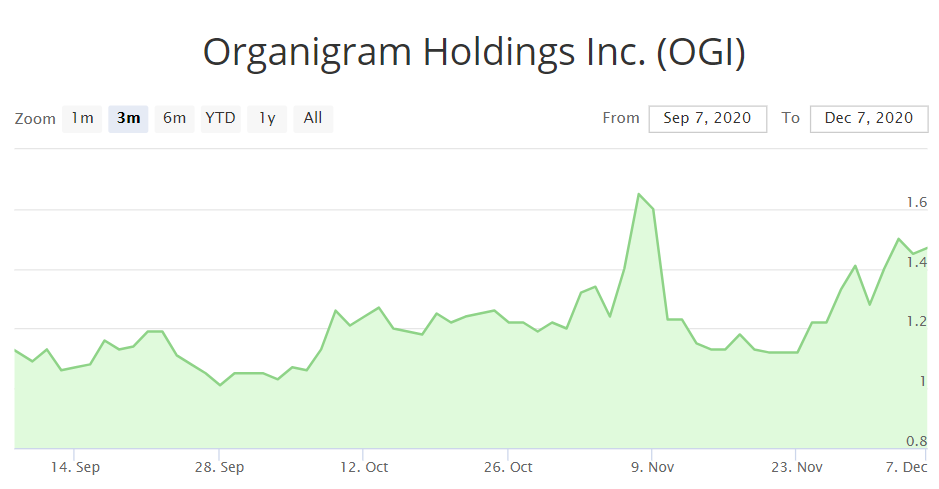 Buy & Hold Grade: F
The stock's proximity to its 52-week high, which is a key factor that our Buy & Hold Grade considers, is certainly not in OGI's favor. Although the company has some good news in its fourth quarter earnings report last month – Q4 2020 net revenue increased 25% to $20.4 million from $16.3 million in Q4 2019 and Q4 2020 gross revenue increased 32% to $25.4 million from $19.2 million in Q4 2019 – that was overshadowed by a…
Continue reading at STOCKNEWS.com