The buzz is largely gone. And today's situation whiffs more of bong water than anything worth sampling. Welcome to Canopy Growth (NYSE:CGC)? Let's check in with what's happened of late in CGC stock, then offer a risk-adjusted determination which will help investors avoid getting smoked…
Marijuana or cannabis stocks. They've got their man. Biden. They've got the seats. A Democrat majority in the U.S. Senate. States such as New York and Virginia are legalizing. At the same time, jittery neighboring states are likely feeling the burn to catch the green-powered revenue stream.
But for Canada's and the market's largest pot producer CGC, these are anything but high times.
CGC Stock and Enthusiasm
After storming higher by as much as 130% this year, CGC shares are up just 3%. At the same time, Canopy's buoyant year-plus rally off last March's Covid-induced bottom, which saw a gain of nearly 525%, has been chopped down by more than 55%!
So, what exactly is up or rather, going down in CGC stock?
For one, enthusiasm in early 2021 by investors expectant of federal level legalization of cannabis in the US for CGC and Canadian cannabis operators Aurora Cannabis (NYSE:ACB) and Tilray (NASDAQ:TLRY) has proven a disappointing slog. Maybe not at the government level, where change typically takes glacial-like time to happen. But it's certainly the case for a market focused on short-term results and where a fiscal quarter is an eternity.
Not helping CGC's situation, a spike in novel coronavirus cases inside Canada and fresh quarantine measures are also likely impacting the retail grow business within Canopy Growth's own borders. And then there's an unwanted and persistent trend in cheaper competing product and associated challenges from the black market that's weighing on CGC.
Finally, there's also smaller but first-mover U.S. based competition that can't be dismissed. Curaleaf (OTCMKTS:CURLF) and Thumb Industries (OTCMKTS:GTBIF) are two operators enjoying the high-times and bringing home revenues in states where cannabis is legal.
Altogether, the operating environment has taken its toll on CGC stock. But there's always tomorrow and the opportunity for better days ahead, right?
CGC Weekly Price Chart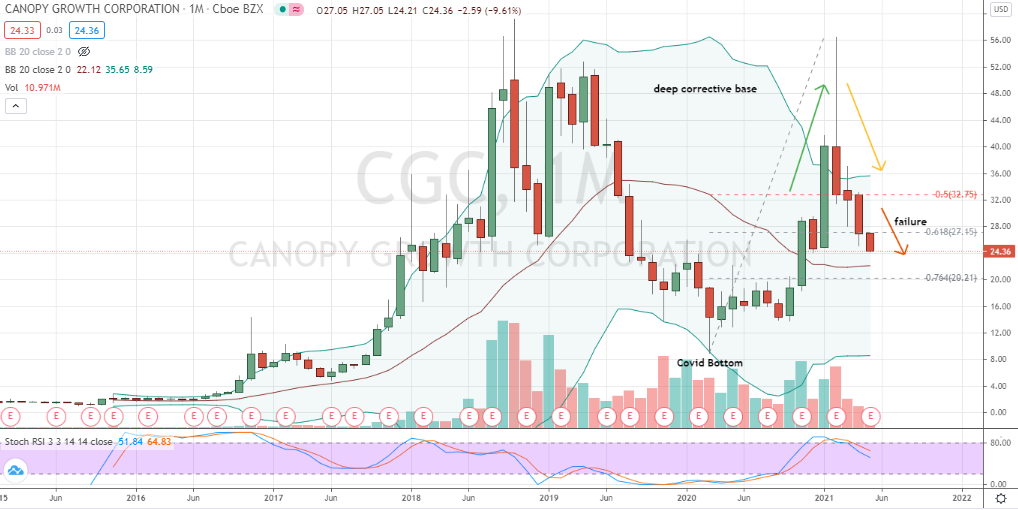 Source: Charts by TradingView
It's not all bad news at CGC. The company does have its CBD business with products ranging from gummies and beverages to pet-based products helping chill Fido and other family members. There's a deal to buy U.S. grow outfit Acreage Holdings (OTCMKTS:ACRHF). But those are still side shows to big picture, right? The CGC stock price chart certainly implies as much.
Aside from Canopy's barely above water return this year, shares of CGC are demonstrating relative weakness compared to the broader market. It aforementioned competition CURLF and GTBIF shares are each up about 25%. And while even the best stocks do and should be expected to go through corrective periods, CGC stock's decline in value has turned into a…
Continue reading at INVESTORPLACE.com